Let your Association Shine in the Silent Auction
Participate in the Association Gift Basket Challenge and be entered to WIN an Amazon Echo Dot!
The FSAE Foundation will be holding our annual Silent Auction this year in conjunction with the FSAE Annual Conference, July 11-13, 2018. The Auction Committee thought it would be fun to involve Association members in a new creative way: the Association Gift Basket Challenge!

We are asking each association to donate a fun basket that is themed around your Association and industry! What better way to learn more about what we all do, than to see and bid on industry themed gift baskets! If your association has a "difficult-to-theme-for-a-basket" industry, you can always choose an alternative theme - Kids, Pets, Movie Night, Wine and Cheese, Super Heroes, Legos! Be creative - remember this is a challenge and there are fun rewards.

Each basket will be entered into a drawing for an Amazon Echo Dot.
Are your wheels turning? Here are some samples of baskets we have already received: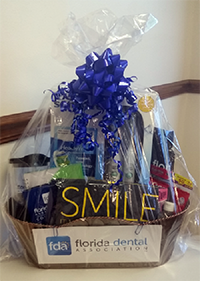 FL Dental Assn Basket - Keep Smiling!
(an example of an association theme)

FL Dental Assn put together a basket for you to help keep your teeth and gums healthy! Basket includes miscellaneous dental care products, FDA shirt, koozies, tervis tumbler, and Philips Sonicare Rechargeable Sonic Toothbrush (Includes: 2 power toothbrushes, 2 Intercare brush heads, 2 travel cases, 2 travel chargers, 2 whitening pens)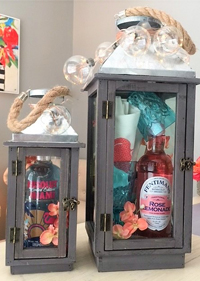 FL Manufactured Housing Assn - South FL Sunset Kit
(an example of a
non-association
theme)
Turn on the twinkle lights and watch the sun go down with a cool cocktail and a nibble. You add the cheese of your choice and enjoy! Includes: Fentamin's Rose Lemonade, Absolut Limited Edition Miami Vodka, Outdoor Wineglasses, Flamingo Tea Towels, Cheese Knives and Teak Cutting Board, Cocktail Napkins and Bistro Lights inside 2 Garden Lanterns.
Please enter your donation online and upload a picture of your basket by June 15, 2018 at www.fsae.org/silentAuction and let us know if you plan to bring the basket to the Fort Lauderdale Marriott Harbor Beach Resort & Spa or if you need to drop it off at the FSAE Office.
Share this post: